More Information On The Artwork, Productions Process, And Clothing..............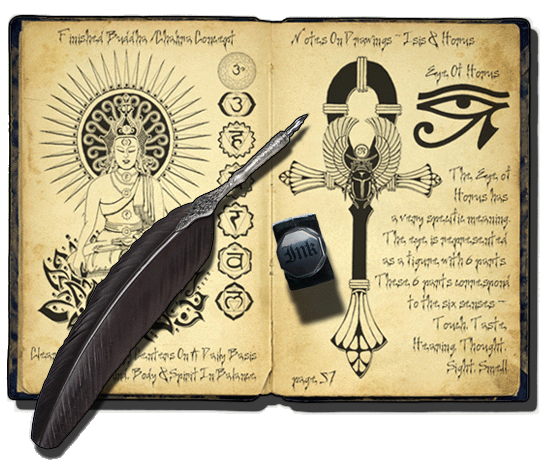 I do not produce clothing by 'seasonal' collections. My printed clothing is released more on the current print I am printing at the time. I produce all kinds of clothing, no matter what time of year and then print the current artwork/design on them. I may have summer dresses available in Winter, or scarves and wool coats available in Summer. I also do not really try to keep track of 'fashion' trends. I do my own thing knowing that someone, somewhere will love to wear my clothing once they find it!
Every garment produced from Dark Elf Productions clothing is hand screen-printed in limited runs right here from my home studio in the castle.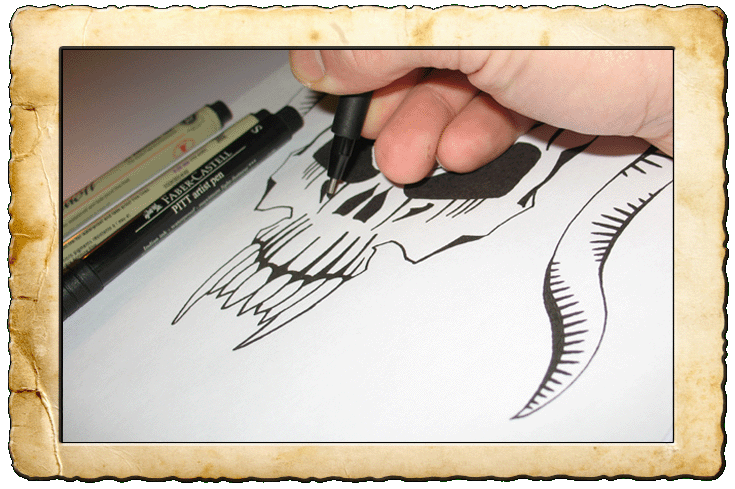 I only use the highest quality, professional grade screen-printing inks (and equipment) that ensures my products are meant for many many years of wear. The ink that I normally use is plastisol and is heated to 180 degrees celsius (350 Fahrenheit) for full curing. I also add a 'stretch additive' to my inks to help reduce cracking over time. I make these statements simply to distinguish my work from the cheap 'crafty' kits many people use that are available from the local craft/art store that use substandard inks and equipment, resulting in a low life & low quality product. I DO NOT use cheap DIY (do-it-yourself) "print & iron-on" transfer printer paper for ANY images or ANY other "instantly gratifying" print-to-garment nonsense or "stencils" that people are calling "screen-printed" today. Once again, you can check out my Screen-Printing Documentation.
I do, however have a merchandise section (where I upload my artwork) where I have accounts with some print-on-demand companies, and everything in those stores are printed & shipped by the company, not by me. Check our "Other Merch" page for more.
I have a 4 color professional industry grade manual press & prefer to keep things simple and usually stick to 1 or 2 colors for my clothing/personal work. I prefer this, because my style of art derives from pen & ink illustrations.
All artwork is original and one of a kind.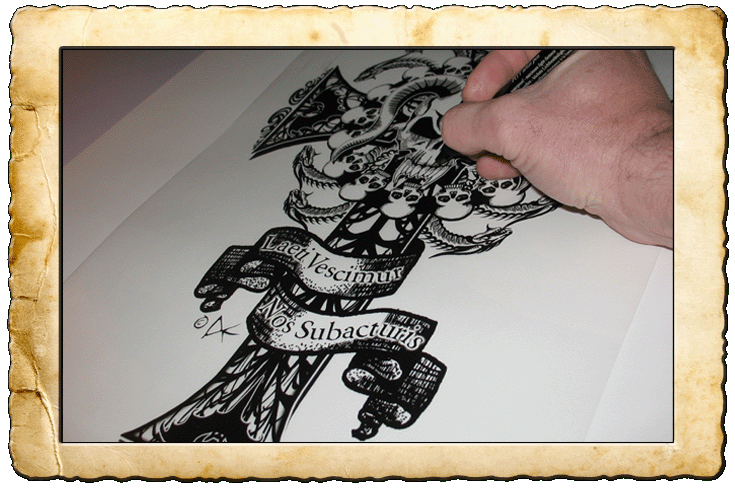 I have accounts with various clothing companies, so I will purchase a limited amount of a particular style in all sizes for a project. I also constantly scour used clothing stores for vintage or used clothing. Once I am ready to print a design, I print them all at once (this usually takes a few weeks to complete) and then the screens of those designs are 'destroyed'.... being that they are cleaned of the design. This is why everything is in a limited quantity.... once the sises of a dress are sold out, they are sold out. If I only have 5 men's dress coats, that's it. Some vintage items are only one-of-kind as they were a treasure to find, and that's why the price may vary on individual items.
If a design sells well, and I get a good response, I may re-burn that design at a later date for a re-print.... but usually by that point im in the middle of another production run of new work so it may be months or even a year before I get to it..... and it may be the same design but available on completely different clothing.
I often replace buttons and make modifications to clothing as well..... changing them or enhancing them to be individual pieces themselves. I DO NOT manufacture the clothing.... although this is something I am looking to change in the near future and would like to make custom pieces.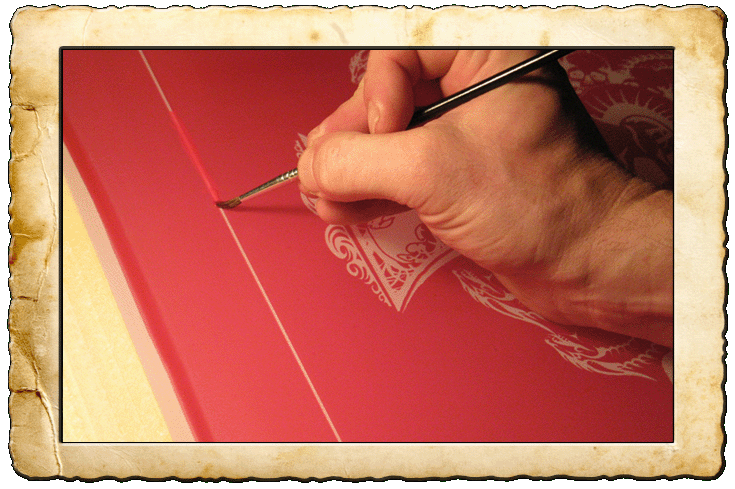 I also like to pair my screen-printed clothing with another item that somewhat reflects the inspiration/artwork of the piece. Tarot Cards, home made oils, incense, jewelry, museum reproductions, trinkets or other 'free' gifts are included in the price. These items will not be separated for a discount on the clothing.
If you are interested in purchasing an individual 'side item' without the clothing,check my other online store, The Tattered Raven, as I frequently sell overstock extra items there.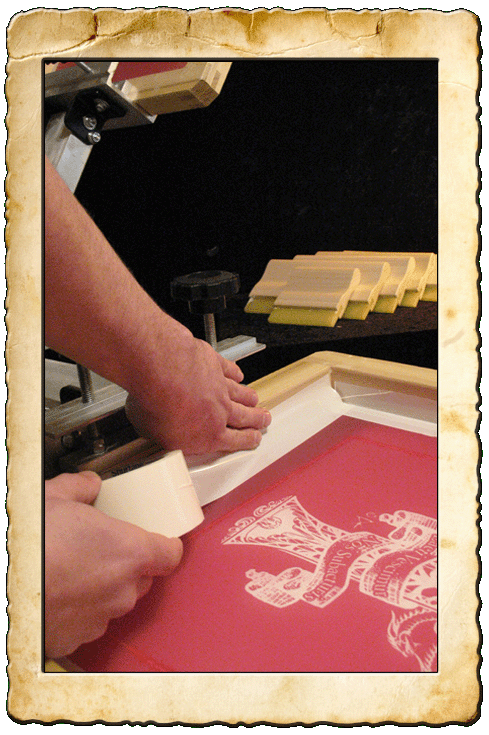 Although I do not claim to be a 'photographer', I do ALL of my own photography WHENEVER possible. When I require a background that I CANNOT get a picture of myself, I PURCHASE.... THAT'S RIGHT, PURCHASE AND own a license to use a photograph from a photographer to incorporate as a background or use in a piece of work.
If you are a photographer and would like to collaborate on a project or piece with full artistic credits for interwoven marketing & promotional media, contact me.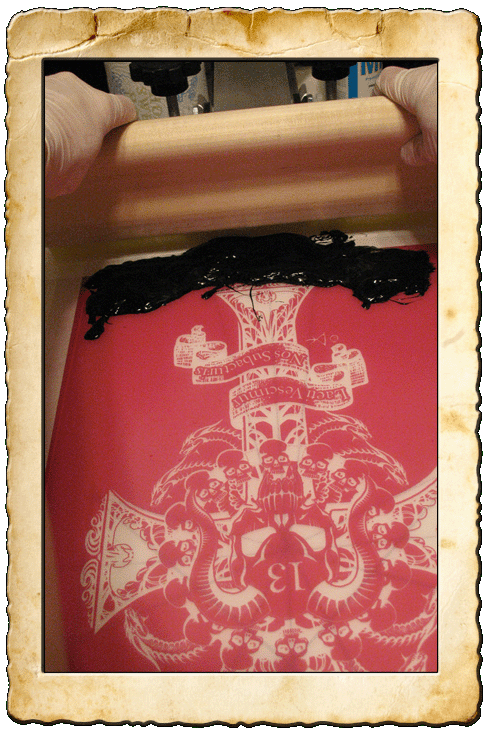 After much difficulty in the past of trying to pay models to model for my clothing lines, I now use my 'model', Ava Von Draven. She has NOT been Photo-Shopped except for occasional eye color, lip color or tattoo. I bring this up because I want to make it clear, that even though I am a graphic designer, the clothing nor the prints in any picture have NOT been Photo-shopped or altered in ANY way. Ava is wearing the actual clothing AS IS..... so what you see IS WHAT YOU GET.